Ali and Shawn's St. Pete beach wedding at The Hotel Zamora was a dreamy, romantic and Pinterest inspired affair down to every single detail. From the intimate ceremony with the most stunning backdrop, to the rooftop reception overlooking the intracoastal, this was without a doubt a St. Pete Beach wedding to remember. 
We met Ali at one of our weddings we were working. Ali was the makeup artist for our bride, and we instantly started chatting and Ali asked us for more information on our packages. A little less than a month later, Ali booked us. It is always such an honor when people in the industry trust us to do their wedding, so to say we were excited was an understatement. We couldn't wait to get started planning with her!
The Stunning Wedding Details
From the beginning, Ali knew her vision for her wedding day. I truly don't think we can put into words how much thought went into every single detail for this St. Pete Beach Wedding. It is always so much fun to work with brides who have so much creativity in their minds, so many Pins from Pinterest and so much inspiration. 
Ali decided to go for an elegant beachy, boho vibe for her St. Pete Beach wedding at The Hotel Zamora. She chose to go with a pop of a turquoise color that you'll notice throughout the entire day. From the groom's shirt, to the coasters and water goblets that sat on the tables, a super fun and unique color we couldn't wait to see pull everything together! 
One of our favorite spots the details really showcased was at her reception, specifically her tablescape. For starters, her reception was intimate with only about 40 guests who were able to enjoy the stunning rooftop on top of Hotel Zamora. But what was really breathtaking was guests were able to sit at one long table and overlook the intracoastal in St. Pete Beach.
Ali's details provided such a romantic and stunning feel for their tablescape including wooden farmhouse tables, champagne colored sea sponge chargers, topped with beautiful white and gold plates and the unique turquoise coasters that were used as place cards and favors at the end of the night. The place setting was complemented by blue water goblets, gold flatware, floating candles and lush floral centerpieces that went down the entire length of the table. When we completed the set up, we were honestly just in "awe" at how beautifully everything came together. See for yourself below!
The Wedding Florals That Can Never Be Forgotten
We will never forget this day for many reasons. One of them being the incredible floral arrangements that came out of it (major props to Lemon Drops Florida!) For starters, the ceremony itself was a pampas grass wonderland. Seriously, we've never seen that much pampas grass in our entire life in one place!
Ali had her florists at Lemon Drops create a semi-circle wedding ceremony backdrop of pampas grass completed with lush white and green florals arrangements on the sides and lining the aisle. It was truly nothing like we've ever seen before. 
After the ceremony, all of these floral arrangements were repurposed to go upstairs on the rooftop for the reception. Floral arrangements were added to the tables, in front of the cake display and near the lounge area. Both the ceremony and reception were filled with florals that really brought out the romantic, boho feel Ali and Shawn were going for. See for yourself below!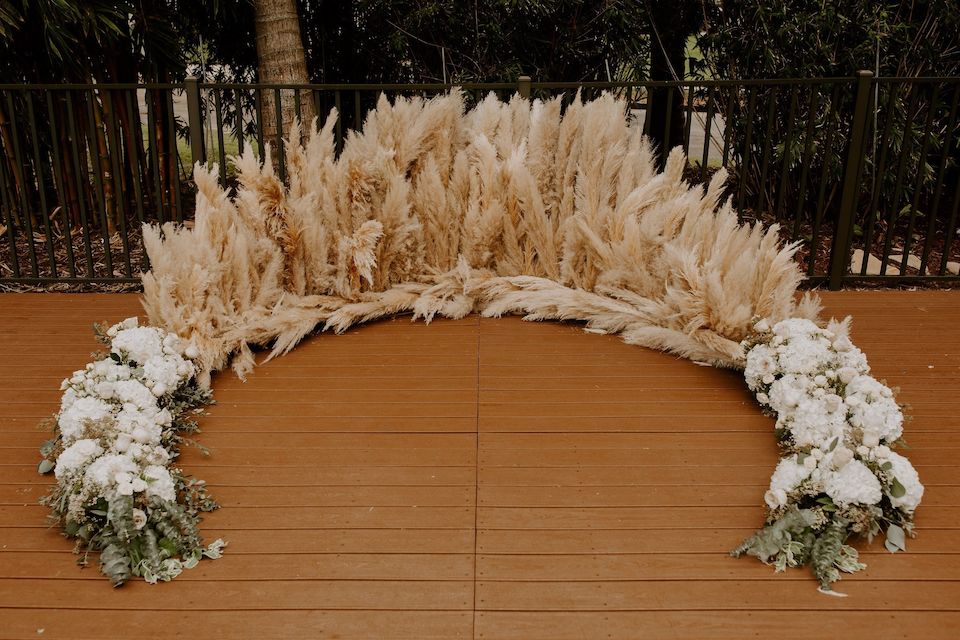 Another highlight from the florals that we have to mention is Ali's wedding bouquet. We honestly wish this bouquet could have been anywhere and everywhere at all times because it was just so beautiful to look at. Ali's bouquet went with her entire St. Pete Beach wedding so well. It included lush amber color roses, small white flowers, white and green Italian ruckus, eucalyptus and white and amber color hanging amaranthus that really just tied the entire thing together. We love how different her bouquet was from everything else, yet it fit perfectly with everything. 
The Breathtaking St. Pete Beach Wedding Venue 
Lastly, we have to highlight the stunning wedding venue, The Hotel Zamora that Ali and Shawn chose for their St. Pete Beach wedding. The Hotel Zamora is a white-washed Mediterranean palace completed with breathtakingly modern feels that overlooks the Intracoastal Way and Gulf of Mexico in St. Pete Beach, Florida. Truly the perfect feel for what Ali and Shawn were going for and they utilized the space in the best way possible. 
The wedding ceremony was held downstairs on the pool deck overlooking the intracoastal way. Guests were able to feel the beautiful ocean breeze and admire the sunset as Ali and Shawn said "I Do!" After the ceremony, guests were directed to the middle floor balcony to enjoy cocktail hour, and later were ushered upstairs to the intimate rooftop space where they could see 360 views of St. Pete Beach. A truly unique venue and experience if we do say so ourselves.