Transforming a blank canvas into a dream wedding venue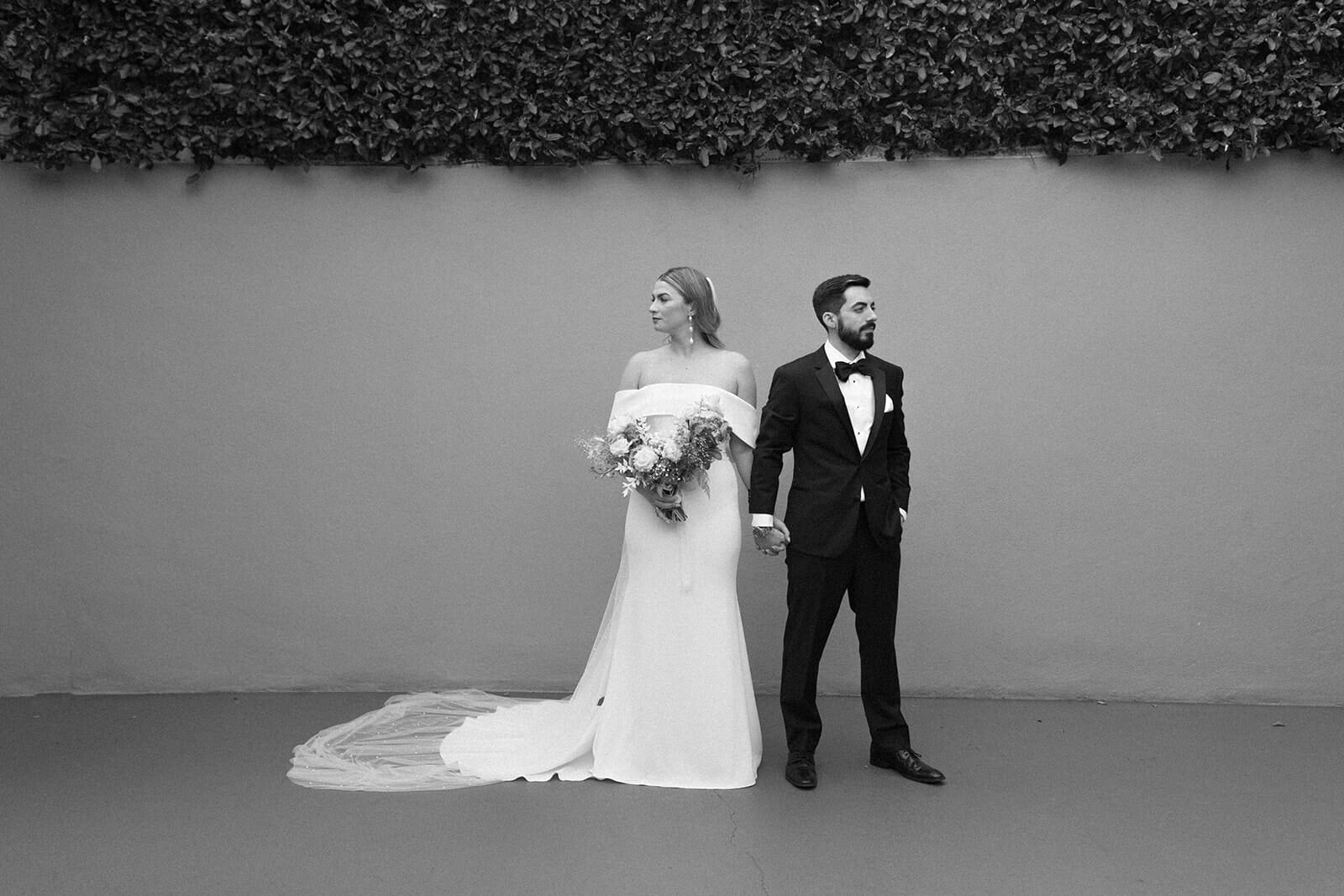 Cait and Nick's modern romantic wedding at The Acre Orlando was a true designer's dream. The couple chose a completely blank canvas venue so they could bring all their wedding ideas to life. With one acre of open space to use on the property, there was a lot of room for creativity when helping them bring their vision to life. 
The couple emphasized on a warm toned color palette to add to the space. They used terracotta and rust colors alongside green floral accents to create an organic boho pop. The stunning tablescapes which included wooden farm tables and chairs, black matte plates, gold accents and other textural elements, the romantic dance floor lighting, and pristine clear tent were all elements Cait and Nick utilized to personally customize the open space. 
With a blank canvas venue comes a lot of space for vendor selection and design creativity. For the ceremony, the venue has a traditional area where most couples have their ceremony (a built out "stage") but they wanted to get married in a different area. 
The area they wanted to use as a backdrop to ceremony was a beautiful greenery hedge wall. Cait and Nick saw this during the venue tour and had a vision to get married in front of it because of its unique look. 
The center of the lush greenery was surrounded by two large floral installations on both sides. For ceremony seating, they chose light wood vineyard style chairs placed in rows on both sides of the aisle. These chairs were then moved to the reception space for guests to sit at dinner. A blank canvas venue allows for a lot of functionality in utilizing rented items in multiple aspects of your wedding. See for yourself below in the photo gallery how beautifully the florals and chair selection transformed the ceremony space. 
Romantic Reception Rentals
The Acre Orlando is specifically an outdoor venue, so the first rental item deemed absolutely necessary was a tent, in case of poor weather on the wedding day. The couple chose a beautiful clear tent with string lights adorned on the top. The tented area served as the reception space and had long wooden farmhouse tables inside. 
On top of the tables there were neutral cheesecloth runners to add texture. These runners had unique shaped vases with fluffy fresh pampas, and a menagerie of candles; some small tea light candles, and other tall pillar candles. All table scape decor was in the same organic boho color theme mentioned above, emphasizing an organic terracotta color with green and neutral accents. 
The couple chose bold black matte plates to contrast the wooden tables. Gold cutlery was also chosen to complement the beautiful place cards laid atop the custom white menus. The design of these tables were what truly transformed the blank canvas venue into a beautiful modern romantic spectacle. 
Cait and Nick chose Puff N Stuff as their caterer but rather than choosing traditional wedding food, they chose a Mexican style menu. The menu incorporated some of their favorite flavorful foods and added a unique twist to their wedding.
The Mexican food choice is where the romantic touches truly hit home for the couple because they met at a Mexican restaurant that Nick's family owns. It was a storybook moment when Cait walked in one day for a job interview and Nick hired her on the spot. Only a short time later the two began dating and the rest is history. We love when our couples blend aspects of their relationship into their wedding day it makes it so special!
When planning, we asked Cait and Nick what they valued most on their wedding day and they both stated they wanted the day to reflect their personalities; fun, romantic, and carefree. They both enjoy a good time and wanted to celebrate that way with their friends and family surrounded by them. To best do this the couple rented a wooden dance floor to ensure people could gather, dance, laugh and most importantly have FUN alongside each other. 
The dance floor had lights strung atop it to light up the space to prepare for a fun night ahead celebrating with their wonderful DJ, who made sure everyone was up on their feet. In addition to the dance floor and lights, they had a separate photo booth area where guests could play with props, take cute pictures, and have custom polaroids printed on site. All of these special features created the blank canvas venue into a fun, romantic escape that the couple dreamed of on their wedding day. 
The bride, Cait, not only customized her wedding venue but, she had fun doing so to her wedding attire for a fun surprise at the end of the night. She entered the dance floor sporting a white leather jacket with 'Til Death Do Us Part' black lettering italicized on the back. You could tell that Cait and Nick truly relished in every moment on the day of their wedding. From getting ready, to the first look, enjoying their food together, and dancing the night away. Everyone in attendance could feel the love that exuded from them both all day long. 
We hope you enjoyed reading and this provided you inspiration not only for a romantic wedding with boho details, but also on transforming a blank canvas venue to something beautiful in order to bring your dream wedding to life! Also be sure to check out our latest blog post on Wedding First Looks HERE.