Are you wondering if you should do a wedding first look or not with your fiancé? Then KEEP READING!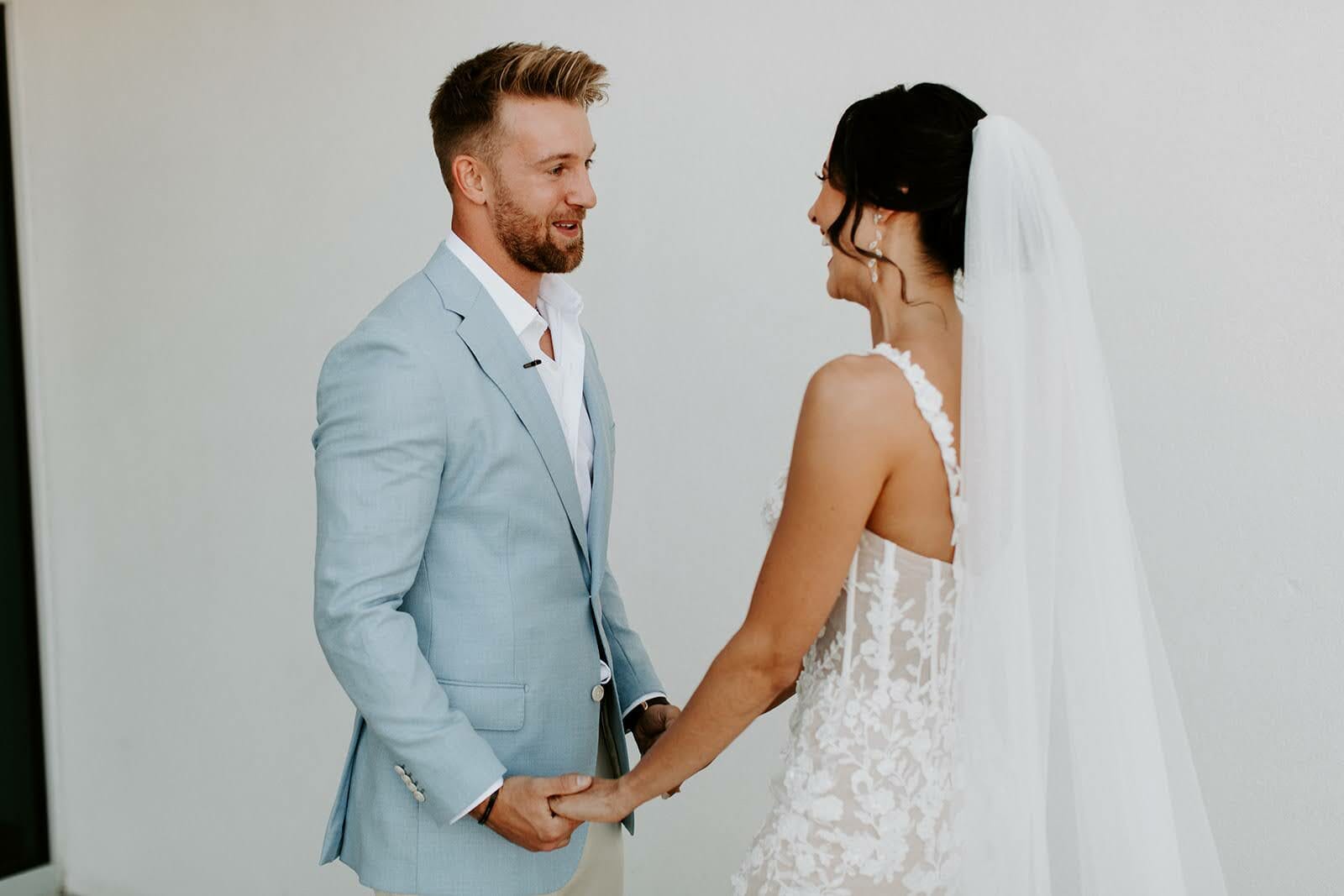 Having a first look on your wedding day has become a common occurrence in the industry. When we are asked by our clients whether to have a first look or not, we always present them with the following pros and cons of having a first look versus not having one on their special day. 
A wedding first look is when a couple decides to see each other before their ceremony rather than the more traditional approach of waiting to see each other for the first time at the alter. 
As more and more couples are deciding to do a wedding first look, we have put together some of our favorite reasons why we love a first look!
A wedding first look provides privacy and personalization in the time spent with your spouse. The privacy of a first look makes the moment much more intimate. It allows you to spend time with each other before you officially get married and see all of your guests. 
A first look provides couples a special time to recognize that the day is about the two of them and they deserve to share such an intimate moment of seeing each other for the first time privately. 
On your wedding day you may be feeling very nervous, anxious and of course excited, which is completely normal! The morning leading up to the ceremony can seem long as you're waiting to see your future spouse and walk down that aisle to say "I Do." 
When you choose to have a wedding first look this is a great way to calm all of those nerves you're feeling. You get to see your spouse and spend time with them before the ceremony begins. We also recommend choosing a photographer who you are comfortable with. That will calm a lot of your nervous feelings on the day-of as well. Read more tips on how to pick your wedding photographer on our journal! But trust us, walking down the aisle will still be such a big moment, just a lot less stress since you've already seen each other. 
3. Take All of Your Photos Ahead of Time
When you choose to have a wedding first look you're able to get a lot of your photos taken before your guests arrive. Your photographer will take your couples portraits prior to the ceremony, as well as any wedding party photos. After your ceremony you won't have many more photos to take with the possible exception of a few, such as extended family or sunset photos. 
With that being said, you'll most likely be able to join cocktail hour and mingle more with your guests prior to your reception. A lot of times this alleviates the couple from having to go table to table throughout the night, thanking guests for coming, because they are able to engage with most of them at cocktail hour. 
4. Alternatives to a First Look
If you prefer not to do a first look but want a special moment as a couple before the ceremony there are some other options. One of the pre-ceremony intimate moments we love witnessing our couples do is a first touch. This is a moment when the couple does not physically see each other but they go back to back and touch to feel each other's presence. Some other great alternatives to a wedding first look are letter readings, gift exchanges, and something we've seen more popular recently, a first drink.
Writing your spouse a letter and giving it or even reading it to them on the morning of your wedding is extra special because that letter can be saved and forever cherished.
Although it may not seem as sentimental, having a first drink with your fiancé before the ceremony allows you to exchange some private conversation and release additional nerves before walking down the aisle.
5. A Good Time to Exchange Private Vows
Some couples prefer to exchange their wedding vows privately and a first look is the perfect time to do so. After the initial reaction of the "first look', couples can then begin vows to one another. This moment creates intimacy and takes the pressure off of a lot of couples from sharing their raw emotions with their fiancé publicly, in front of family and friends.
6. You Get a Couple of Extra Hours Together
A first look provides you extra time with your fiancé on your wedding day. If you do not have a first look, you don't see each other until the ceremony. Most ceremonies are in the afternoon and that's a lot of time you could be spending with your fiancé enjoying your wedding day together, rather than apart.
Wedding days go by very quickly. The time after the ceremony, when you are taking part in reception formalities and catching up with friends and family that are in attendance, specifically goes by quick. Having that extra time in the beginning of the day to spend with your fiancé can be really special if you choose to do so.
Always remember, doing a first look is all out of preference. There is no right or wrong way to do things. We hope you enjoy the gallery above of some of our favorite first look moments our couples experienced. Ultimately it is YOUR day! Whatever feels right for you and your spouse will be absolutely wonderful and so special whether or not you participate in a first look.
CHEERS!
The Envy Team