Now that you have your wedding budget set we can get to something MUCH more fun!
Your WEDDING VISION! This is one of our favorite parts of the planning process and it happens right off the bat! Discussing your wedding vision happens in the very beginning stages because it provides a clear plan for what your entire aesthetic will be and the overall experience you want to capture for your wedding day.
The visual aspects of your wedding are often the most memorable for your guests and they are what will be captured forever in your photos.
So in this post, we'll walking you through why it is important to have a vision board for your Big Day and a few easy steps to help you create yours! 
5 Steps to Creating Your Wedding Vision Board
Step 1:  The first step in creating your wedding vision board is honing in on what it is that you and your partner are really envisioning - what is each of your styles? 
Whenever we ask our clients this question we like to get a feel for who each of them are individually and together as a couple. What is the style of their home like? What restaurants and bars do they favor? What do they like to do for fun?
Your wedding is a representation of who the two of you are, and there's no better way to dig into that then asking about your daily life and style. We encourage you to ask yourself these questions!
Step 2:  From there, we recommend breaking your wedding day down into visual "vignettes" - essentially mini mood-boards for different aspects of your day. 
We like to start from the beginning of the event (ceremony) and go all the way to the end (your grand exit).
Remember, everyone's wedding day is different, so the vignettes you may consider for your day may not be on someone else's vision board.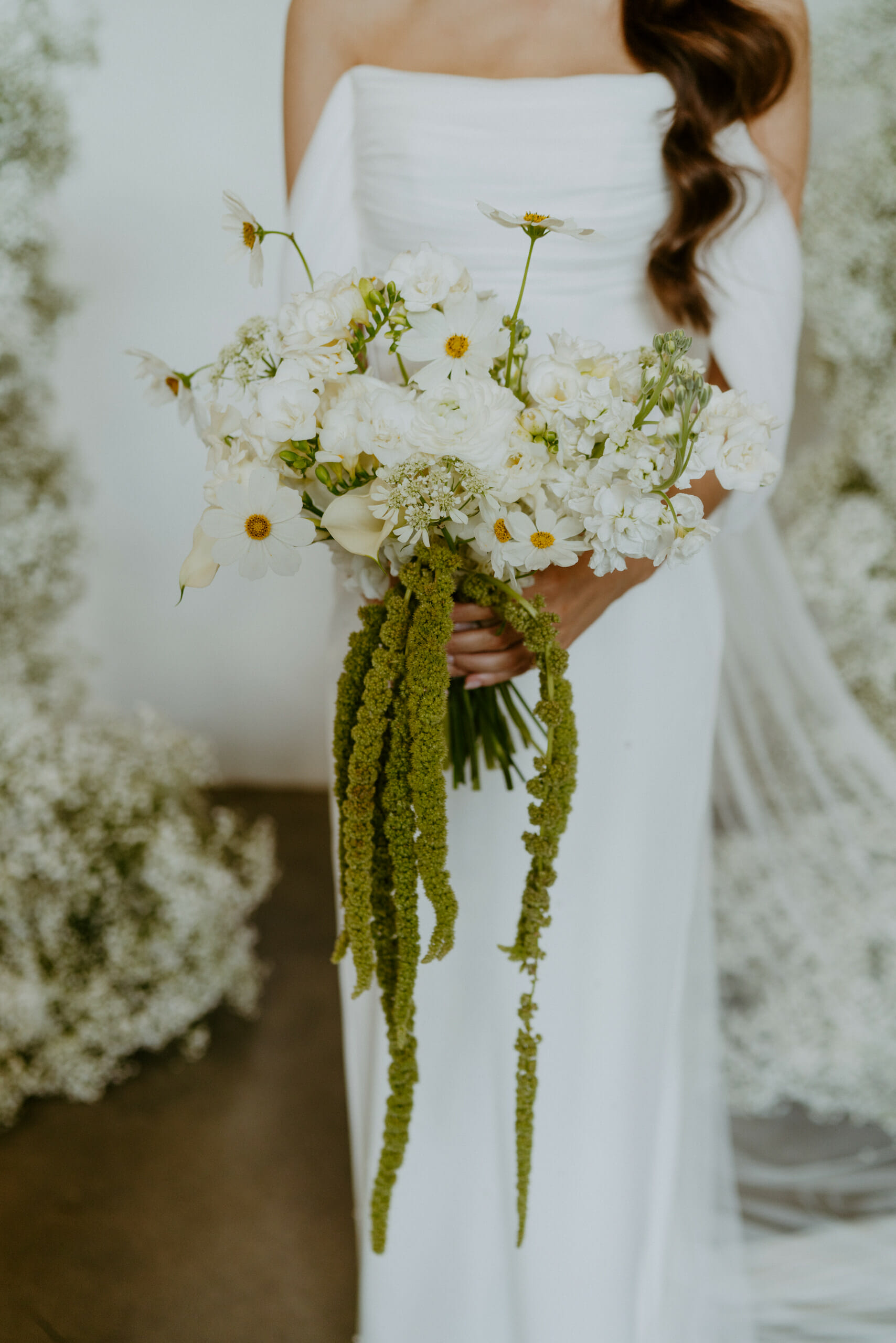 Step 3:  Time to start putting your vision board together based off of these vignettes. We recommend having a page for each. This is where you'll go through all of those pictures and videos you've saved on Instagram, TikTok and Pinterest and start organizing and pulling the ones you'd like to use.
Step 4: Add your photos into each page and make notes for yourself based off of what you are looking for.
We always tell our clients the photos we're adding in are just inspiration, we want your wedding to be unique not copied from someone else!
Step 5:  After this, you'll want to start making a wishlist for your design vendors for each page. Example for ceremony:
(1) Bridal bouquet (list design elements)
(5) Bridesmaids bouquets (list design elements)
(6) Bouttonieres for groom and groomsmen (list design elements)
(2) Floral arrangements for ceremony arch (see vision board examples)
(1) Ceremony arbor
(100) Chairs for ceremony set up
3 Reasons Why Creating a Wedding Vision Board is so Important
1. It helps you stay organized and less overwhelmed throughout your planning process.
When we create vision boards for our clients we start by breaking the day down into smaller vignettes (like we described earlier) in order to hone in on all of the design details that they are imagining.
This helps our clients get super clear on their wedding vision to ensure every aspect of the day is part of a cohesive aesthetic.
2. Your wedding vision board will play an integral role moving forward in the planning process. Once completed, you can it with vendors to help them understand your vision and draw up more detailed, accurate proposals for you. 
3. It helps you stay on budget. A detailed vision board lists out everything that you need to bring your vision to life.
Who doesn't love a list?!
From there, you can add or remove things based off of how much money you have saved for your design budget.
Having trouble getting started? No worries! Sign up to be on the waitlist to receive our Vision Board examples, templates and a Wedding Day Design Wishlist guide for you to customize.
We get it, all of this can seem very overwhelming, especially when you have SO many ideas in your head and SO much inspiration to choose from. If we're being honest, this will take some time but we promise it'll be worth it.
Remember to join our waitlist to receive a complete guide on how to create your Wedding Day Vision Board, but in the meantime, reach out to us if you need any help 🙂