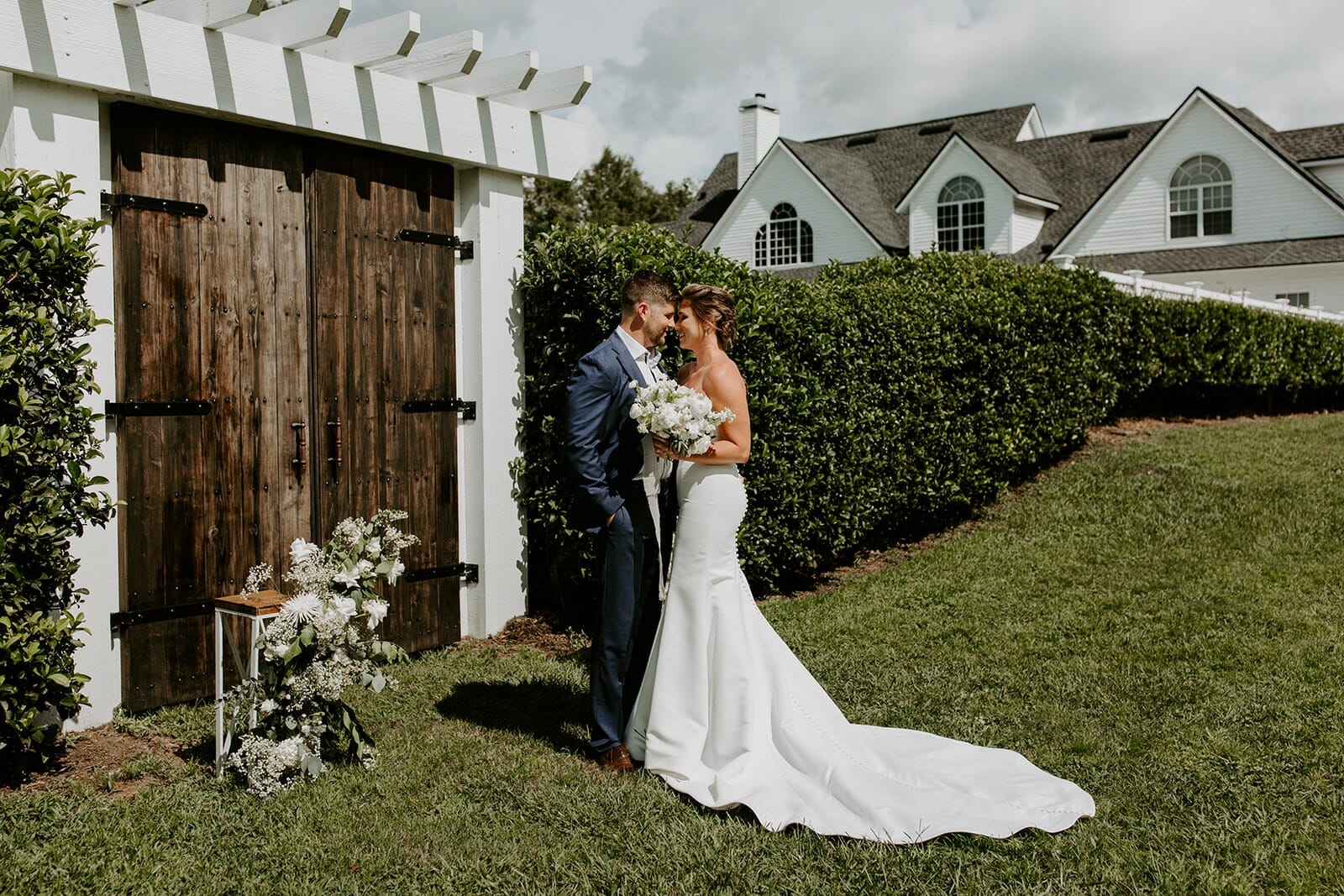 Have you ever seen photos of a stunning landscape in Napa Valley or Tuscany and dreamed of having a vineyard wedding?
We're awestruck by the natural beauty in wine country. The sound of dirt and gravel crunching beneath your feet as you wander down rows of grapevines that stretch as far as the eye can see. This scene is what inspired our latest styled shoot. Although the Florida heat is no place for wine making, we happened across a venue that made us feel like it could be...
At Bramble Tree Estate, the gravel driveway leads past a stunning white farmhouse, to rolling pastures, trees draped masterfully in spanish moss and a vine covered pergola tucked away, as if to be kept a secret.
Around every corner at Bramble Tree you'll find another vignette more stunning than the last. When we first set foot on the property, we were reminded of wine country, and knew it would be perfect for any bride wanting a vineyard wedding, without traveling to the west coast or overseas!
When it comes to a vineyard wedding we imagined the rustic feel of a working farm combined with the elevated culture and beauty of the wine making process. We decided to name this styled shoot after the grape harvest season, which is affectionately known as "The Crush."
Bramble Tree Estate provided us with a beautiful backdrop for our vision. We used the stunning hedge lined field, giant wooden doors, and several other areas around the venue to create our vignettes for the shoot.
We wanted to focus on keeping the color palette neutral and classic, incorporating textures and layers in order to create depth.
We created several different vignettes for this shoot - Ceremony, Seating chart, Bar, Tablescape and Sweetheart Table. We loved using all of the different areas at Bramble Tree - for the ceremony we used the oversized wooden doors as a backdrop. This was a fun departure because typically these are at the entrance to the aisle, but we couldn't help but to mix it up and use them a bit differently for this shoot.
For the bar and reception area we loved using the hedge lined lawn. The hedges create a beautifully defined space for a reception. Whitewashed farm tables, baby's breath, and gold accents were the perfect mix of nature and elegance. We even used Orlando Wedding and Party Rentals' "Vineyard Chairs" to complete the look.
The highlight of this vineyard wedding shoot was definitely the wine wall seating chart. A nine foot wall with floating shelves was lined with glasses of red wine for each guest along with their escort card and a play on words sign reading, "You're the Wine that I Want." We always love to come up with unique fun touches for our shoots that show our clients that we aren't just going to do the same thing for every client. Check out our "Honey Take a Seat" sign from our American Honey styled shoot!
We also had a bit of fun repurposing items, floral arrangements used in different ways throughout the shoot, and my personal favorite overturned "half barrels" for some grape stomping photos of the bride and groom. These barrels are typically used as end tables for lounge areas, but we saw them and instantly saw the perfect opportunity to have a little fun with our bride and groom. Let us know what you think of our Vineyard Wedding ideas from this shoot!