The female figure is beautiful!  Women come in all shapes and sizes - some of us are curvy, while others are petite, some of us have big busts, some have smaller busts, narrow hips, longer legs, the list goes on. Every woman's body is unique, so when it comes to finding the perfect wedding dress it's all about choosing the one that fits and flatters your one of a kind shape and makes you feel like a million bucks! 
Our team recently spent some time at Solutions Bridal Designer House with consultants, Ruthie Fonseca and Mason Jones, learning more about size inclusivity, how to style different body shapes, and their new plus size line "Limitless".  Ruthie and Mason even did a fit session for us where they each modeled the same three Lo'Adoro wedding dresses, so we could  see how each dress can flatter different body shapes! 
Solutions Bridal - Plus Size Wedding Dress Line - Limitless
In the bridal fashion industry, size inclusivity unfortunately, is not always a focus, but at Solutions Bridal this is certainly not the case!  A large part of the mission at Solutions is to ensure that  every bride feels welcome by not only providing top quality customer service, but also by carrying samples to serve brides of all shapes and sizes.  
Their new plus size line launched back in September after the team at Solutions noticed that there was a need for more representation and inclusion of plus size brides. 
Ruthie, the Marketing and Operations manager at Solutions shared with us about their plus sized line saying, "We have picked up a new line specifically for this division, Studio Levana, which has no sizing and dresses are made to measure. Additionally, we have partnered with some of our other designers who have also agreed to offer their gowns made to measure, including Estee Couture, Tara Latour and LoAdoro, which means our sizing options are Limitless. This is also what will set us apart from other stores that offer plus size dresses as most tend to carry the same designers."
If you're in the market for a wedding gown, we can't recommend Solutions Bridal more - make an appointment to experience their new division and see all of their gorgeous dresses! 
How to Style Different Body Shapes in a Wedding Dress
Every bride, no matter what size, is going to have a different body shape and different style when searching for her wedding dress. When it comes to styling different body shapes in a wedding dress it's key to have an experienced bridal consultant who can guide you through your appointment.
For example, one thing the Solutions team looks out for is if the bride is on the more bustier side, no matter her size, they will look for a dress with more structure and support. 
According to the experts at Solutions, it's not about size, but rather shape.
"A good silhouette that will look good on all body shapes is an A-Line gown. The magic in this shape is that it can minimize the midsection, hips, and thighs, and draw attention to the bust half at the same time," says  Solutions consultant, Ruthie. 
Best Wedding Dress Styles for Each Body Shape
First and foremost, how the bride feels in the dress is going to play a huge part in how the dress looks on her. Without a doubt the most important thing is that your wedding dress makes you FEEL GOOD! Ruthie recommended some of the best dress styles for each body shape, but at the end of the day it comes down to a feeling!
Mermaid
Ladies with a large bust and curvier hips, tend to look great in a mermaid/fitted gown. This type of wedding dress outlines the body from the chest to the knee and is then flared out at the bottom creating a beautiful balanced shape. The mermaid style is known to highlight the waist and hips rather than narrowing it, especially if you have some curves!
Sheath
Brides that are not as curvy, tend to love how a sheath wedding dress fits. This type of wedding dress style is a more snug fit and outlines the body from head to toe. The wonderful thing about a sheath style is that you can add to it. For example, if you have a boxier shape, you can opt for a belt or sash to create more of an emphasis on your waist. This style is also for those brides who aren't looking for a long train. 
A-Line
The A-Line wedding dress style can really complement all body types. It remains fitted until it hits the waist where it flairs out into an A-shape (hence the name). It is a great choice for curvier brides because it complements their bust area, while also defining the waist.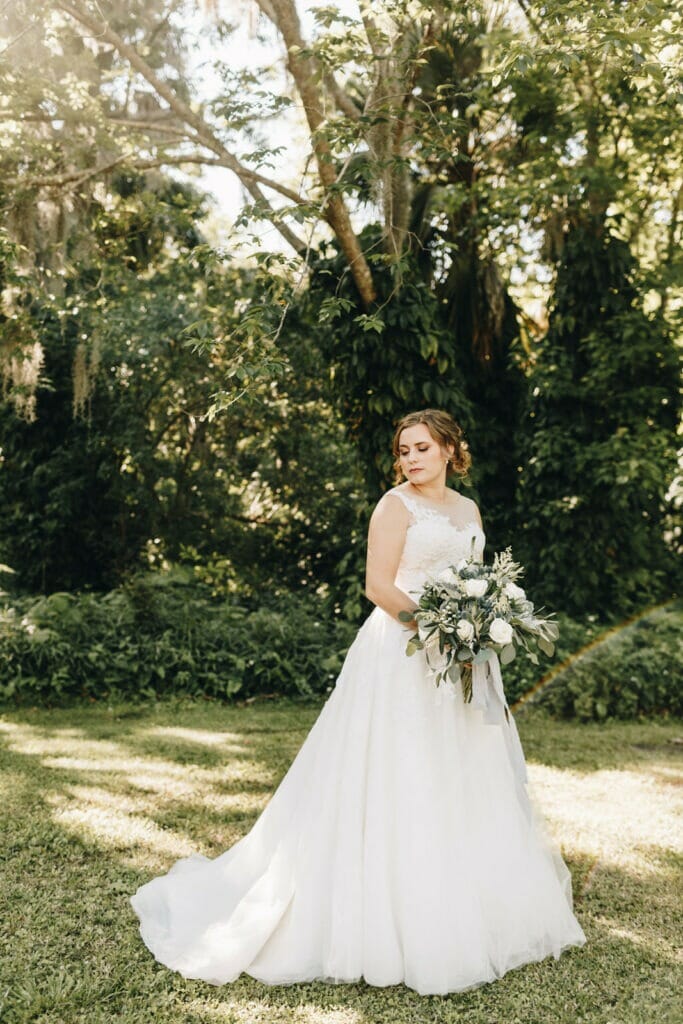 So often we hear that brides walk into their wedding dress appointment with a vision in mind of what they want, but end up going with something completely different.
Ruthie says, "This happens all the time! Because often we are looking at images where the model might not have the same body shape as us, which means that what might look good on someone else, might not look good on us and vice versa."
So while having an overall vision is good, it's important to keep an open mind to shape and details until you've actually had a chance to try them on. Remember, finding the perfect wedding dress for your body shape is going to be different than someone else's experience. Our best advice is to have fun trying on all kinds of different silhouettes and styles during your appointment - you may be surprised at which one you end up falling in love with!
Thanks again to the team at Solutions Bridal Designer House for allowing us to come in and learn more!