Which wedding or event have you been to that has especially stood out in your mind? Now ask yourself, why did it stand out to you. Why was that wedding memorable to you? 
Chances are it was some sort of unique detail you've never seen before. Did someone serenade the other? Did a food truck show up? How about all of the decor? There's one thing all of these unique details have in common that made that wedding memorable. 
And that is, they were all some sort of personal touch that had an amazing reflection of the couple getting married.
Throughout the planning process, every choice you make, from the traditions of the day, to the food, the cocktails, the decor, and the entertainment, is a chance to reveal a little bit of your identities, both as individuals and as a couple, to all of your guests. 
As wedding planners, Steffi and I are huge fans of adding personal touches throughout your entire day to make your wedding memorable. Which means, if you're looking to really play up the personality, it's all about the details.  
Today we'll be sharing some of our favorite elements from past weddings and styled shoots we've done with real couples.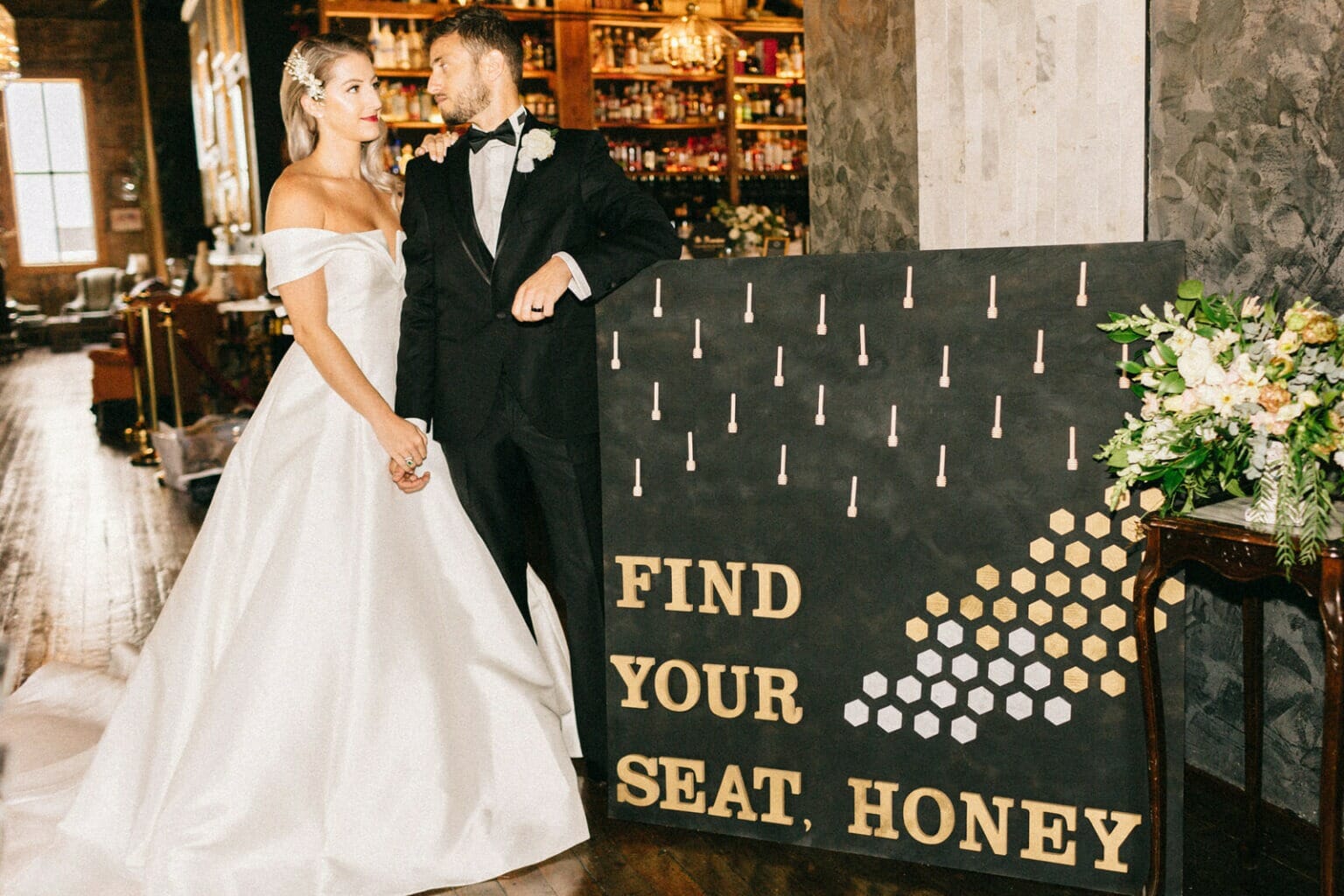 A big part of you and your partner's story is how you both met, after all, it's what got you to planning a wedding in the first place! This would have to be one of the very first questions we ask our couples when looking to make their wedding memorable - "Well, how did you both meet?" 
Although this styled shoot wasn't a "real" wedding, we were working with a real couple, so of course we had to incorporate personal touches for them throughout this shoot. You may be wondering what's all the buzz about the honey? Well, it's because Cati and Danny met on the dating app - Bumble! So, get it?! Bumble, bumblebees, honey? Hence all the honeycombs on this seating chart! 
Always take it back to your roots and think about the very first time you both met, or what made your paths cross. 
Add Your Favorite Dessert...Even If It Shows Up on Wheels
Do you and your partner have a favorite dessert spot? Whether it be a certain food, or dessert, this is such an easy element to make your wedding memorable!
For this couple, one of their all time favorite dessert spots is Jeremiah's Italian Ice. If you aren't familiar with this local Orlando spot, it's basically just a drive through ice cream shop that serves a variety of soft serve ice creams, mixed with italian ice. SO good. 
Who would have ever thought you could do it at your wedding? But of course Natalie and Austin made it happen for their big day! As a planner, I will remember this day forever. I mean, an ice cream truck showed up, parked and served soft serve ice cream to all of their guests after dinner was over. Forever a win in my book. 
Another moment I will forever remember, is when Christine sang to Emily...and Emily had absolutely NO IDEA! And I'll tell you what...this wedding was memorable for this exact reason. 
When Christine came to me during the planning process saying she wanted to sing and play Emily a song on the guitar right before dinner, I was so excited because I knew this was going to be such a special moment for the two of them. 
Sure enough, Christine didn't have a dry eye in the room, and Emily was so surprised. This was truly a moment that everyone at the wedding will remember forever. 
If you didn't know, these photos went completely viral after Natalie and Austin's wedding day because this idea was SO good. Talk about making your wedding memorable...they'll have their photo in numerous news outlets for as long as they can remember. 
A little back story, Natalie and Austin met when they were just little kids, Natalie moved, and then they reconnected later on in high school. And now, here they are...years later taking the same photo at their wedding as they did as kids. Not to mention, the red Jeep was also their getaway car at the end of the night!
If you have a middle school or high school sweetheart, let's pull out those old photos of the two of you to get some ideas!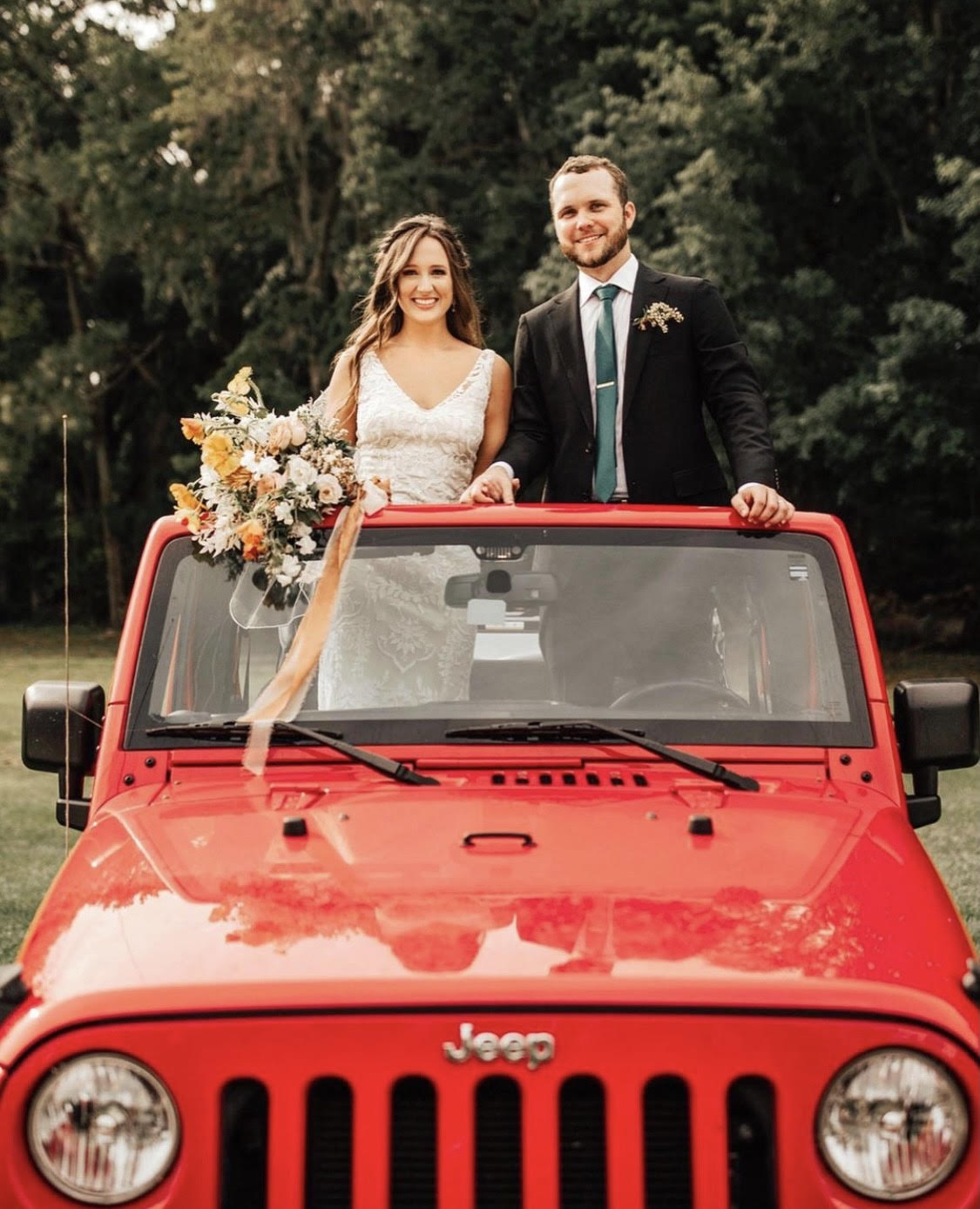 Many people call their wedding the best day of their lives, and it absolutely is a day that everyone will remember forever. You want this day to be special, and no matter what kind of wedding you have, it's always fun to incorporate unique elements to make your wedding memorable. Remember, it's all about the details. 
We hope these ideas help get you started!