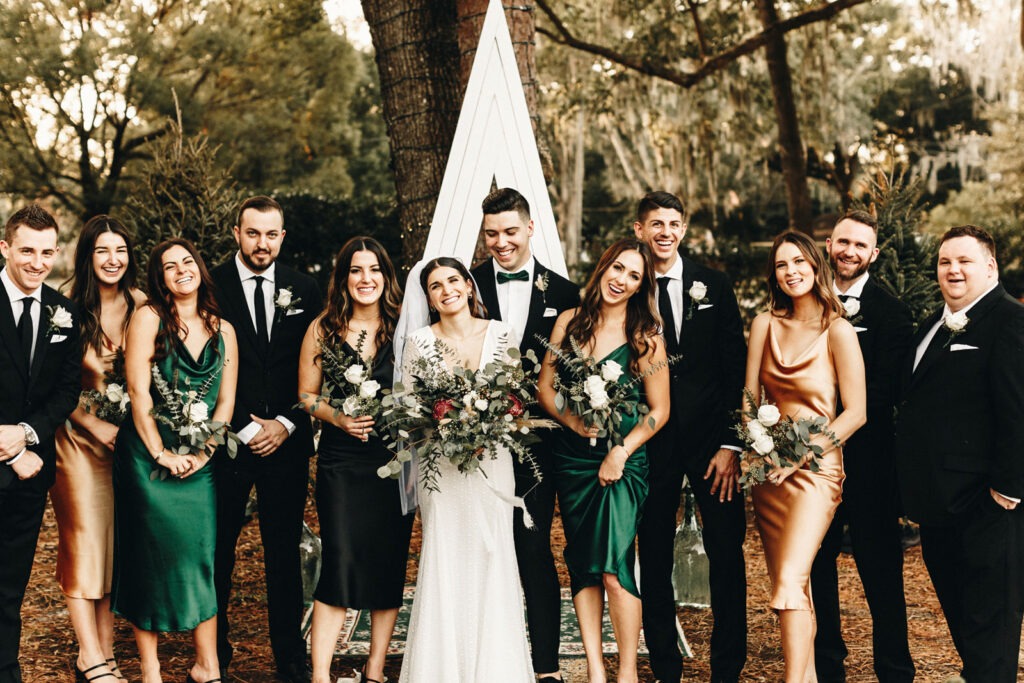 Having a solid Wedding Day Timeline goes a long way in making your Big Day go off with out a hitch. The most important thing to us on the day of your wedding is that our clients don't stress! It's our job to make sure that we have taken the reins and are in complete control of the logistics of the day so that our couple can focus on CELEBRATING with each other and with their loved ones.
If you are a bride or groom that has decided to forgo having a wedding planner, the goal is still to have everything as organized as possible and all tasks delegated to others so that you and your sweetheart can enjoy your day to the fullest.
Either way, as my 7th grade science teacher always said, "Organization is the key to success!" and boy oh boy was Mr. Jacobs right about that! The more organized you are going into your wedding day, the more smoothly it will go. A huge piece of that organization comes into play with your Day Of Timeline.
Your Timeline is the backbone of your wedding day. It provides structure for everyone involved and allows you to relax knowing that everything is planned to a T. All of your vendors and bridal party will be able to reference your timeline as the Big Day approaches and on the day of to make sure they are on track and know exactly where they need to be and when.
Now, don't fret, all of us know that in the wedding industry we need to be flexible. If things don't go second by second according to the timeline, that is OKAY! On the day of your wedding, we are here to make sure that your timeline is followed as closely as possible, while still allowing for wiggle room as the day takes its natural course. If we need to adjust things by a few minutes, or throw in an additional toast – it's no biggie – but having a wedding day timeline as a solid foundation allows us to do this much more easily than if everything were just being done by the seat of our pants.
Here are our FIVE steps for creating a solid Wedding Day Timeline:
1. Brainstorm
Without worrying about assigning times just yet, take a moment to brainstorm with your partner what traditions and special moments you'd like to include on your Big Day. Decide if you and your sweetheart would like to have a first look, cut a cake, trade letters you've written, etc. These special moments can be traditional or unique to just the two of you and your Wedding, but it's a great idea to know what you want to include so that you don't miss them as you create your timeline. We've included a checklist below to get you started!
2. Vendor Coordination
Consult your vendors on their arrival times and length of time needed for set up. It's very important that you know when each of your vendors plans to arrive so that set up runs smoothly. If someone is running late you can call them to check in. If your cake needs fresh flowers from the florist you can be sure that their arrivals are coordinated. Etc.
Two vendors that we always work very closely with on the timeline are your Photographer and DJ. Good Photographers always create their own timeline that should correlate directly with yours. Their timeline will be specific to the photos that they need to capture – whereas the overall wedding day timeline can be more general referring to where the photographer will be and who needs to be with them. Your DJ is important because they are the ones who are going to be MCing the entire event so make sure that you've spoken with them about the flow of the event and you're expecting from them.
3. Determine Your "Bookends"
Determine your ceremony time and event end time. These are important bookends for your wedding day. Once you've determined the start and end time, then you can fill everything else in. Start by working forward from your ceremony start-time to determine the flow of the rest of the evening. It's very common for Weddings to include a lot of the same items – check out the checklist below for the common items we see included on most wedding timelines.
4. Fill-In the Blanks
Next, work backwards from your ceremony time to fill in the rest. This will be everything leading up to the ceremony, bridal party arrival to the venue, vendor arrivals, what time you'll need to start getting ready, first look, etc.
5. Double Check
Review to make sure you're not missing anything and be sure that it matches up and reflects your photographer's timeline and the needs of all of your vendors. This is a good time to fill in those items that you and your sweetheart brainstormed in Step 1. For example if you want to exchange letters with one another – when do you want to do that? Before your first look while you're getting ready? Or maybe after once you've seen one another and you can read them together at the same time.
If you're feeling overwhelmed by the planning process….
1. Don't Stress!
2. Check out our post about how having a wedding planner can help you out!
3. As always drop us a line with any questions you have about planning your big day!
Example Wedding Day Timeline Overview Download
Example Wedding Day Timeline Download
Wedding Day Timeline | Planning Checklist Download