Figuring out what to wear to a wedding can be a tough decision - the short, midi or long dresses, a suit with a tie or without, and the warm, rich colors that were perfect in fall, may not be the right option for spring.
We get it, because we've been there both as the wedding guests and seeing guests at weddings that we work. With a new season comes new colors, new styles and new options to choose from, 
The most important thing to remember when figuring out what to wear to a wedding is that you want to look good and feel comfortable while doing so,  but you also don't want to distract from the couple or draw attention for the wrong reasons. Luckily, we've got the perfect guide for what to wear to a wedding.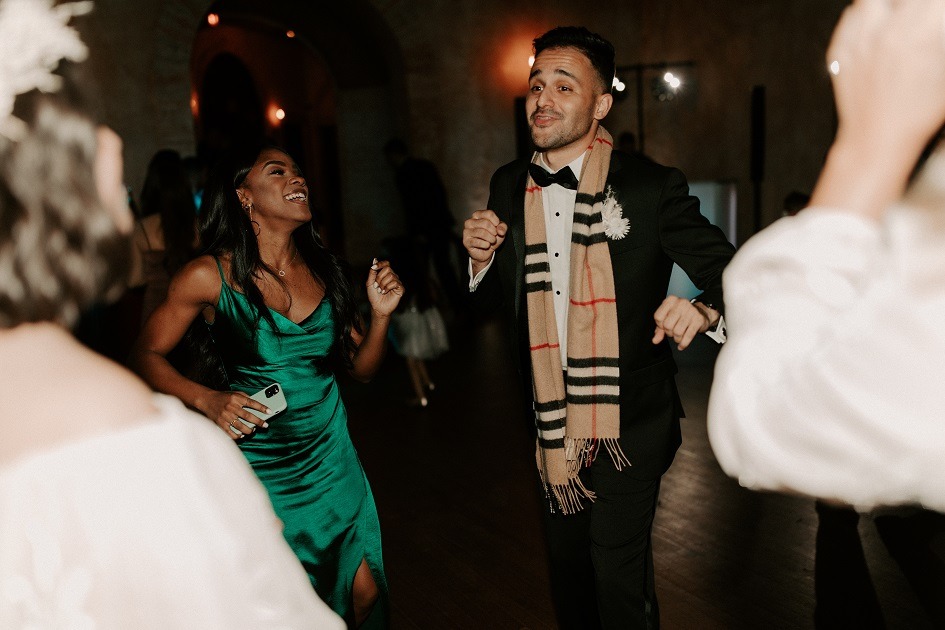 What Does the Invitation Say?
Ok, so you read the wedding invitation - but it's still left you clueless about what to wear to a wedding? The information you need is likely there, you just don't know how to interpret the dress code wording. Whether it's black tie, semi formal, white tie, or something else, we're here to explain a bit more. 
White Tie:

Think THE most formal of them all, like you're attending the Oscar's or dinner with the president. Guys should wear a long jacket with tails, a vest, and a bowtie, and ladies you should wear a full length ball gown or suit with beautiful dramatic jewelry. 
Black Tie:

This is a more common formal event, and typically means the event is being held during the evening. Guys should wear a tux and ladies should wear a nice cocktail dress,  full length dress or jumpsuit.
Formal Attire:

This is a term we've seen more commonly used on invites when couples want it to be a little less formal than black tie. For guys, a suit would be just fine, and for ladies a cocktail dress, long dress or jumpsuit would be fine. If you aren't sure what to wear to a wedding that says "formal attire" we always recommend dressing more formal, you can always dress down your outfit by removing a bow tie, or jewelery if necessary. 
Cocktail Attire:

This is slightly less formal than black tie and black tie optional, which means no tux required for men and no floor-length gown required for women. Guys can wear a suit and tie, girls can wear a short dress, dress suit or  jumpsuit. 
Semi Formal:

Semi formal is NOT casual. It is somewhere in between formal and casual. Guys should still be wearing a suit and tie, and ladies can wear a short dress, jumpsuit, suit or midi dress. 
Consider the Season
Another thing to consider when deciding what to wear to a wedding is the season. Spring and summer color palettes and styles can look much different than fall and winter options. 
For the warmer months lighter colors are definitely an option, and for ladies showing you'll find many options that show off your shoulders. For guys, shorts are never an option at a wedding, unless said by the couple, however, depending on the dress code, a short sleeve button down shirt may be acceptable. 
For the fall and winter months, warmer and deeper tone colors will be the color palette that you find. Keep in mind that it may be colder out (depending on which state your in) so be sure to dress accordingly with the weather. Guys can wear a suit, and ladies can wear a midi dress, full length dress or jumpsuit with a jacket. 
Research the Venue
When it comes to deciding what to wear to a wedding, another thing we highly recommend is researching the venue that the couple is getting married at. If the invitation doesn't specify the dress code, this could really help. Is the wedding on the beach? At a nice hotel? A barn? Beach wedding attire can be very different from a ballroom in a hotel. So, research the venue and see if you can find any pictures from past weddings that have been held there!
A Few Don'ts
Don't

wear all white (unless requested for an all white celebration by the couple)

Don't

wear flip flops 

Don't

wear shorts (unless approved) 

Don't

wear sweats

Don't

wear denim (unless given the ok by the couple)

Don't

go against the dress code (ie wearing a ballgown at a beach wedding)

Don't

wear anything that would take away from the bride or groom on their special day (ie. too many sparkles) This is the one time you don't need to worry about winning best dressed!

Don't

show too much - weddings typically have a lot of family members and you'll be dancing most of the night! Be aware of how much cleavage your showing or how short your dress is.

Don't

wear t-shirts 
Once you know the basics, it's time to put together your outfit. Some of our favorite wedding guest websites for ladies are Lulus, Revolve, Show Me Your Mumu and ASOS, all of which have a wide variety of short, midi, and long dresses, as well as women's suits and jumpsuits! For men, we love a good suit or tux, so pick your favorite place! 
We hope this mini guide helps you decide what to wear to your next wedding you're attending! Tis the season for weddings!
What WE wore to our most recent wedding we attended as guests!