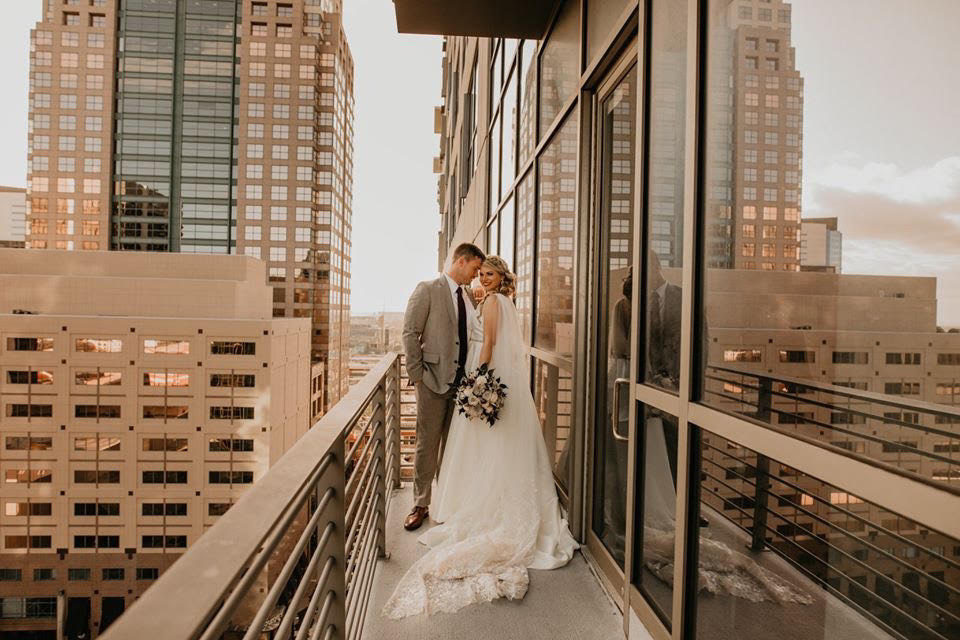 Photo taken by: M.A.D Images Inc. 
There's no doubt that Orlando, Florida is a great city to get married in. In fact, it's one of the top cities in Florida to have a wedding. From the amazing wedding vendors, stunning wedding venues and plenty of things to do for your out of town guests, planning a wedding in Orlando might seem too good to be true.
As wedding planners who are based in Orlando, we must say the City Beautiful is our home base for a reason. Orlando offers incredible weather (sometimes), extremely talented wedding vendors and breathtaking wedding venues that are unlike any other you would find in other cities. Getting married in Orlando is a wonderful idea! There is no doubt that there are so many great reasons why this beautiful city is a top worldwide destination for couples tying the knot. However, if you plan on planning a wedding in Orlando, Florida, there are a few things to consider before bookings, deposits and final timelines go into place.  
While as your wedding planners we can't tell you what to do, and by all means cannot make these final decisions for you, we can give you a few tips. After all, we've planned quite a few weddings in the area. So today, we're breaking down our four best tips for planning a wedding in Orlando, Florida.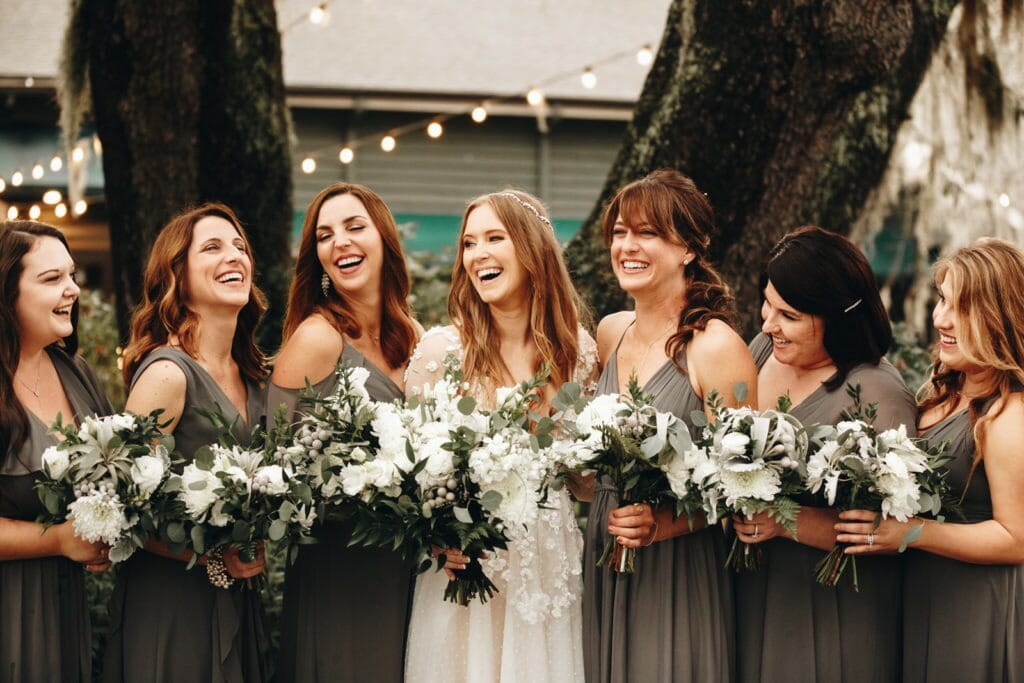 Photo taken by: Sydney Marie Photography
Consider the Orlando Heat
Whether you are from Florida or not, everyone knows it's all about the heat here in the sunshine state. And sadly, it's just as hot in Orlando as it is at the beach. There's no escaping it! While the heat isn't always a bad thing for us in the summer months, it is definitely something to consider when planning a wedding. Aside from the fact that the city's climate is generally warm and rarely sees temperatures dip below freezing, it's hard to predict what Orlando, or better yet, all of Florida's weather will be. 
Because the chances of temperatures being warm are pretty much a given in Orlando, you really need to consider this when planning your wedding... especially if it is outside. The heat can affect the way you look that day (both you and your fiance), bring you lots of sweat, hot and uncomfortable guests, dehydration and lots of sunburns that no one was planning on. 
While it is completely fine to have an outdoor wedding, it is just as important to prepare and plan for it. We recommend getting married later in the day, renting a tent, renting an indoor wedding venue during the summer months, ensuring your bartenders have plenty of water on hand, and telling your guests to dress accordingly. And of course, if you do want to have the indoor/outdoor feel that Orlando weddings are ever so famous for, consider getting married in the months of October through April. Wedding season in Orlando, Florida is at its peak in the months of October through April.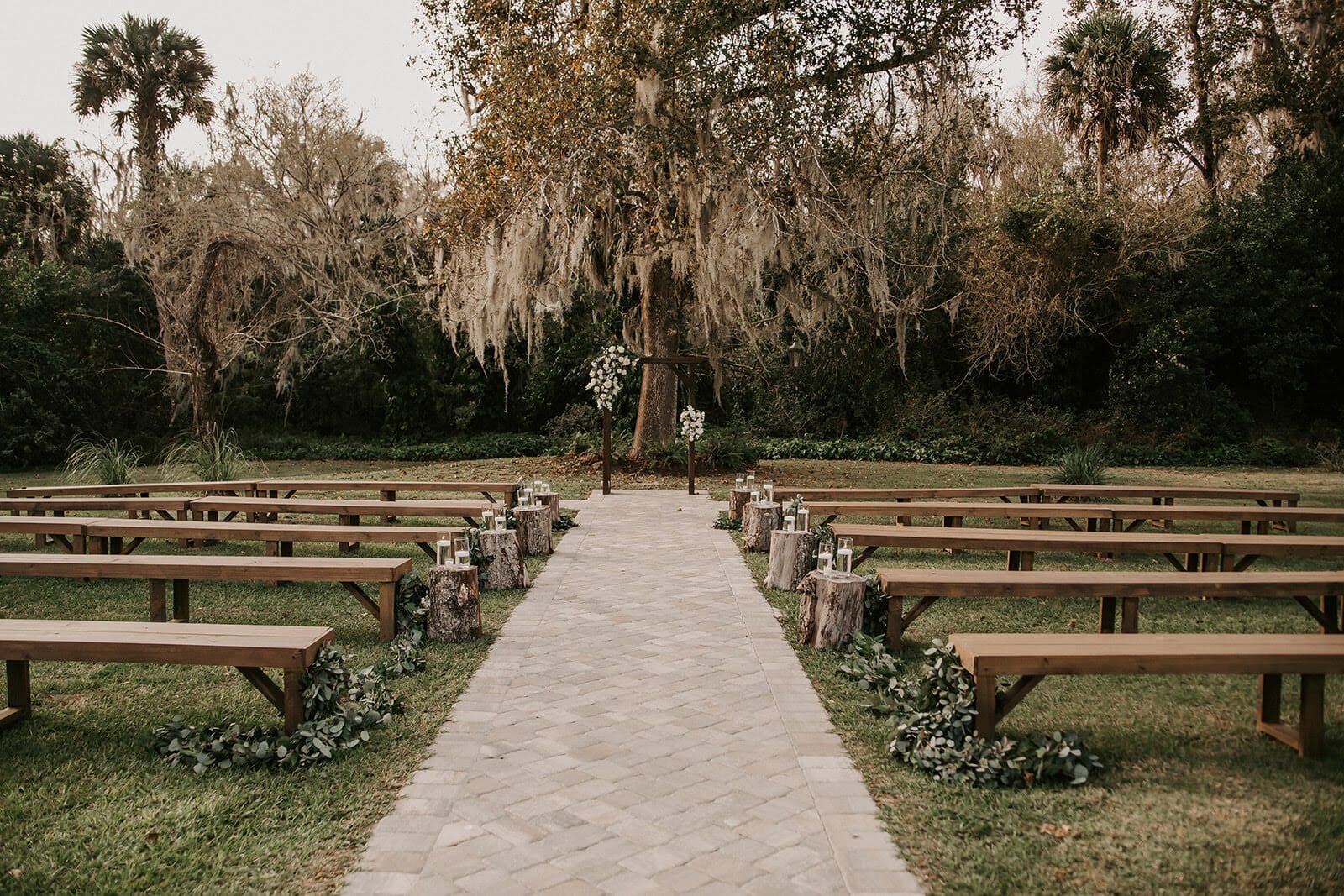 Photo taken by: Meche Ausina Photography
Have a Plan B for Florida Rain
Of course with lots of heat and sunshine in Orlando, it also brings just as much rain. As wedding planners in Orlando, we always make sure our guests have a back up, especially if any part of their special day is taking place outside. Unfortunately, rain and powerful storms are just part of the deal when planning a wedding in Orlando. It doesn't matter what month it is! 
We recommend having a tent on hold if your entire wedding is outside, discussing with your planner what plan B will be if you have to move part of your wedding inside, grabbing some umbrellas for your guests if it's raining the day of and making sure your guests know whether the venue is indoor or outdoor. The weather in Orlando is extremely unpredictable, so be sure you have a weather backup plan regardless of the time of year.
Have a Proper Budget for Planning a Wedding in Orlando
Like planning a wedding in any city, we recommend always laying out your budget prior to planning your wedding in Orlando. Getting a sense of what you'll pay for your wedding day expenses will make it easier to budget throughout your planning process. Budget can be a big sticking point when it comes to wedding planning, but that doesn't mean it has to be stressful. However, it's important to keep in mind that every city's price points are different. A wedding in Miami, Florida might cost a little different than a wedding in Orlando, Florida. 
Take a look at the chart for some more specific information as calculated and reported by The Wedding Report, on the average cost of a wedding Orlando,Florida over the last five years. 
After your budget is in place, you're good to start planning your wedding in Orlando, Florida. Which brings us to our next point...
Research the Orlando Wedding Industry
As we said before, and we will say it a million times again, the Orlando wedding industry is unlike any other (and no, we aren't being biased!) Orlando is filled with unique, creative and five star companies in every category of wedding vendors. Orlando is also known for being a top tourist city and a major hot spot for the hospitality industry. Whether you are looking for your florist, photographer, DJ, planner or baker, we truly believe you will not ever be disappointed with the wedding vendors you come across in Orlando. 
As planners in the Orlando, Florida area, we have worked with extremely talented wedding vendors, and we will say that finding this talent comes with loads of research. It's easy to pull up Google and click on the first thing you find, book that vendor and there you go, the process seems easy enough. But if only we could tell you all of the talent you are missing out on! This talent isn't completely hidden, but you definitely have to do your research. 
Not only is their extreme talent in the Orlando area, but also some killer venues that are completely jaw-dropping. From rooftops, to barns, to open fields, ballrooms, historic homes and more, Orlando truly has it all. 
We recommend not only searching on Google, but also searching Instagram, Pinterest, Facebook, Wedding Wire and word of mouth. Check out our Instagram and see some of our favorite vendors and venues who are tagged in our photos. Remember, do your research and don't be afraid to branch out a bit! 
Below is a list of a few of our favorite Orlando vendors, these are not all of them! Just a few of our favorites that are extremely talented, professional and we know will do a great job. Please feel free to inquire to receive our full preferred vendors list!
Venues
Caterers
Photographers
Florists
DJs/Entertainment
Rentals
So, are you ready to start planning a wedding in Orlando, Florida? We hope these tips have helped you get started, but we'd love to be with you every step of the way. Let us know how we can help you here.