Envy's top five ideas to help you pick your wedding day color scheme so you can start designing!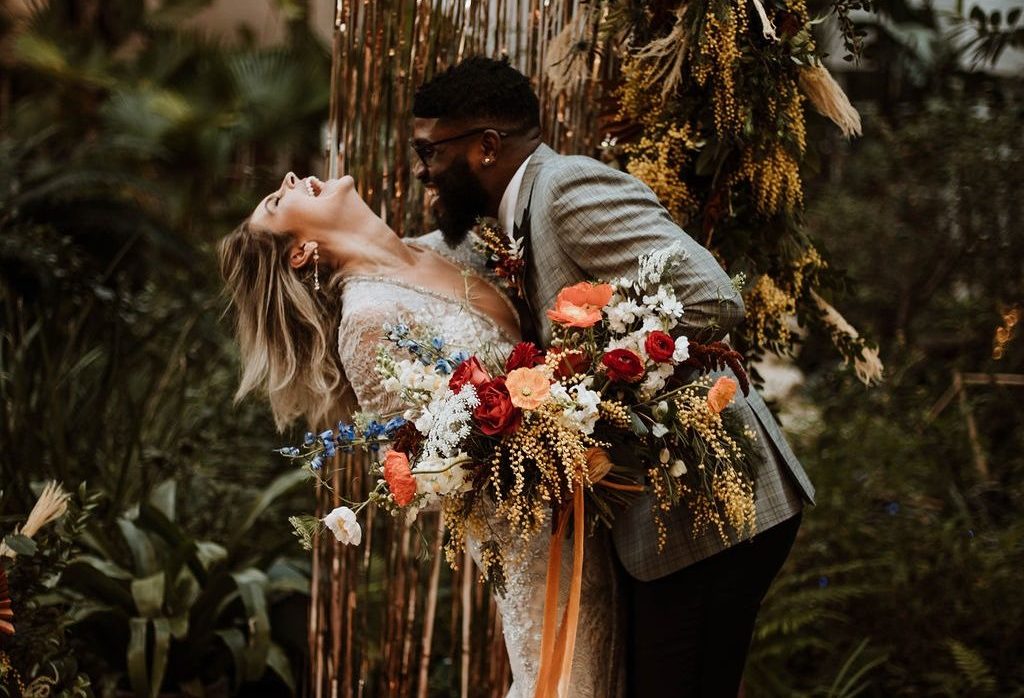 Once you're engaged and start planning your wedding, one question you are sure to get is, "So, what are your colors going to be?" While there are a lot of ways to form a vision of what you want your wedding day to look like, if you're stuck, selecting a color palette is a great way to get started!
Whenever we are designing anything, whether it be a full blown wedding or something as simple as a floral arrangement for our home, starting with a cohesive color scheme serves as a solid foundation that we can build from.
Here are five ways that will help you hone in on your wedding colors!
Favorite Colors
Do you have a signature color? If so, that may be a very easy and personalized way to determine what your wedding color will be! For example, Jessie, our co-founder, loves blue - in particular a soft blue - somewhere between sky blue and seafoam green. It's a hard color to describe, but whenever I see anything that color, it screams "Jessie".
So, if you're like Jessie and you have a favorite color, this might be a no brainer way to pick your wedding color palette. Start with your signature color and then build your color scheme around it. I always like to imagine the main color in nature - what does it look like out in the world.
For example if we start with Jessie's favorite color, then I might picture a soft sunset over the ocean. Using that image, I can then pull complimentary colors for the rest of my palette like the soft pink from the sunset, and the natural browns and creams from the seagrass and sand.
Seasonal Colors
Another great way to get started with your wedding color scheme is to use your wedding date as a starting point. What season are you getting married - Winter, Spring, Summer, or Fall? I got married in the fall, which is my favorite time of the year. We finally get some cooler weather here in Florida, nostalgic family traditions like apple picking and baking pies come back to life, and everything just feels a bit more cozy.
Using fall as an example, I again like to pull from nature. So, close your eyes and picture your "season" - what comes to mind? For me it looks a lot like the photo below. As I'm sure you're beginning to see, using nature as your guide actually makes selecting and pairing colors super easy!
Trending Colors
You can also go with the current trends! For our stylish brides, who love to be on trend, it is always fun to choose your colors by looking at the design motifs that are popular in the wedding industry.
Current trends we see in the industry now are shifting to favor intimate weddings with eco-conscious decor. This means dried and painted florals have become a big hit and have led many brides to a beautiful mix of natural shades ranging from mustard yellow and burnt orange, to dusty rose and deep burgundy.
Our Bride Ali incorporated this trend on her wedding day with a stunning pampas grass altar display and all of her accompanying floral arrangements which were a gorgeous mix of dried elements and fresh blooms. The color scheme for her entire wedding day reflected the soft natural tones inspired by these trending florals. Check out more inspiration from Ali and Sean's St. Pete Wedding on the Blog!
Colors inspired by your Venue
Using your venue for inspiration is a surefire way to get stunning photographs on your wedding day. Your venue acts as the backdrop for everything, so the colors, textures, and architecture of the space are the perfect foundation for your wedding design. 
Stephanie and Pablo's wedding was a wonderful example of how to use your venue as the foundation for your color palette. Howey Mansion is a beautifully weathered and textured historic home. Its walls painted a beautiful natural peach tone was the perfect backdrop for all of Stephanie's beautiful dried florals and decor. Head over to the blog for more on Stephanie and Pablo's epic day - be prepared to be WOWed by all of the amazing details!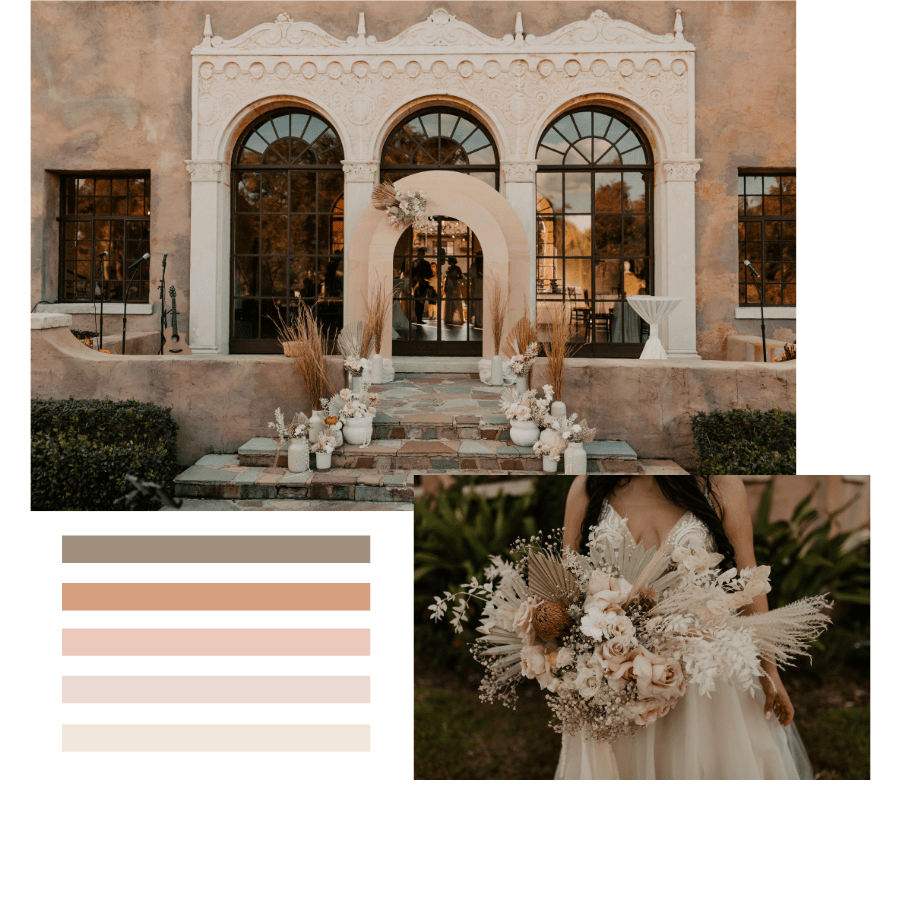 Classic Colors
Lastly, you can never go wrong with timeless design. A  simple, classic color palette will never go out of style, so whether you're a bit overwhelmed by all the options or you want to ensure that your wedding photos will never look outdated, then this might be the route for you! 
Classic colors schemes tend to be simple and clean. This also lends itself to adding more decorative accents like romantic candlelight. Another great perk of going with a classic color scheme is that often the photographs also look beautiful printed in black and white. 
Our couple Caitlin and Brandon kept their color palette classic, simple and perfectly in sync with their venue, The Mulberry, with a variety of greens, creamy white tones, and a little pop of dusty blue. Going with a classic color scheme is a great way to allow you and your groom really shine!
No matter how you decide, once your color scheme is determined you can move on to the fun of designing your big day! 
Still need help determining your color scheme? Drop us a line, and check out our Pinterest, and Instagram in the meantime! We'd be happy to help you out 🙂