There's no doubt that wedding dress shopping is one of the most fun wedding planning to-dos on the list. However, it's no easy task and can be a bit daunting and overwhelming. Full transparency here, I was really overwhelmed going into this weekend. I've never tried on beautiful dresses like this before, and I was having a really tough time picturing myself in any sort of style. ANDDDD what if I didn't find "the one" this weekend? Then what?! 
I'm here to tell you that all of those feelings are normal. And while I'm not saying the way that I did it is what you should do, the entire weekend wasn't just about finding my dress, it was one of few weekends that all of my best girls would be in the same place celebrating with me...which made it that much more special. 
I'm so excited to be sharing with you all a recap of my weekend, but also a few tips that I learned along the way that I think I can help you. 
The Weekend Plans
I had always envisioned trying on my wedding dress with all of my bridesmaids, mom and future mother-in-law in the room, so I figured why not make a weekend out of it?!
Friday Night Dinner
We started the weekend off on Friday night with a dinner at my parents house (Dad went on a golf trip) so it was girls only! I told my mom what I was thinking and really wanted it to be at someone's house rather than a restaurant so I could mingle and talk with everyone. 
Of course, my people went above and beyond and put together the most beautiful tablescape outside on the patio. It was so beautiful, and exactly what I was envisioning. 
My mom also cooked a manicotti (an Italian dinner staple), my Matron of Honor and cousin put together a beautiful charcuterie display, lots of red wine was served and many laughs were shared. I even tried on my first ever wedding dress - my mom's from 35 years ago! 
It was such a great evening and the best way to kick off the weekend!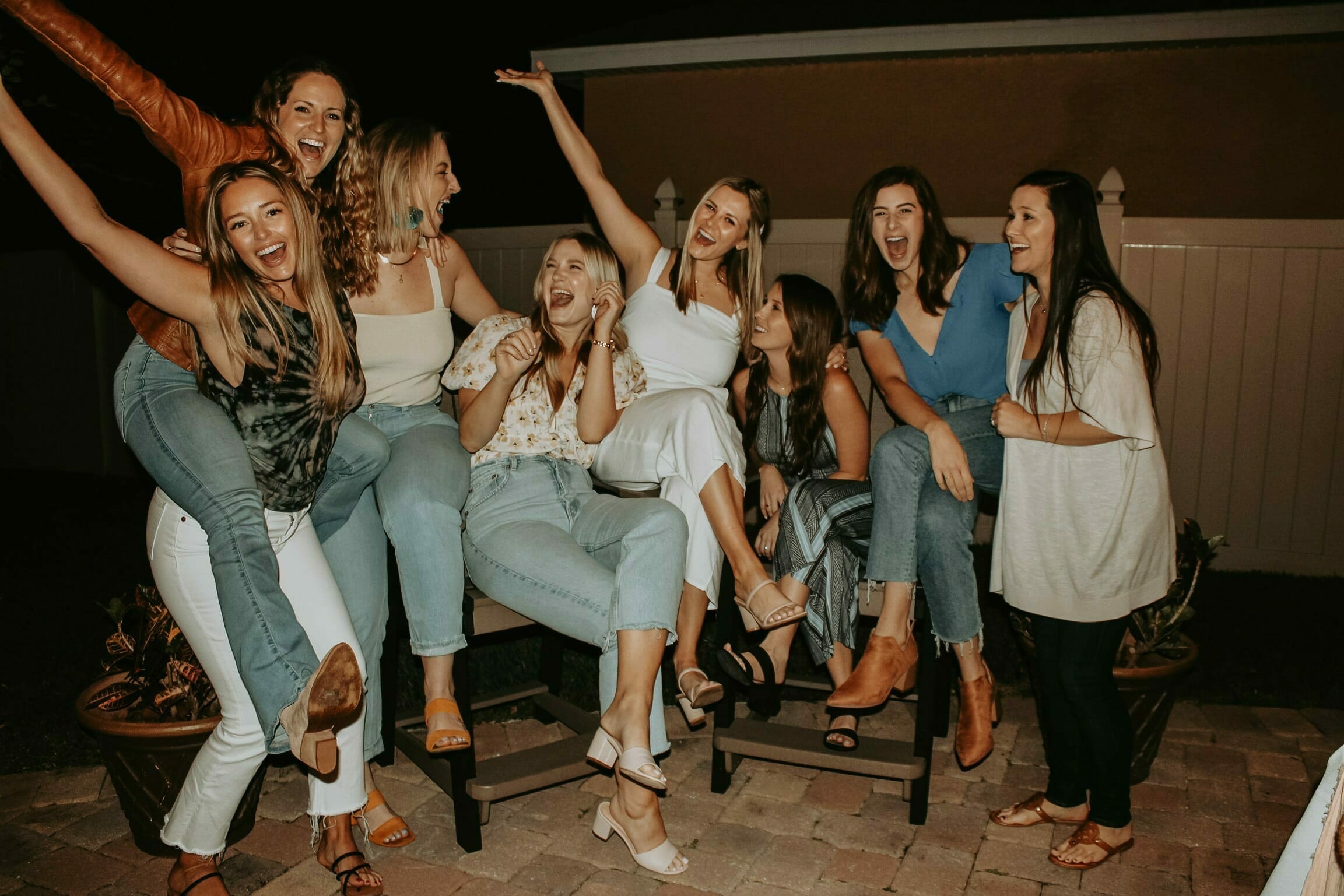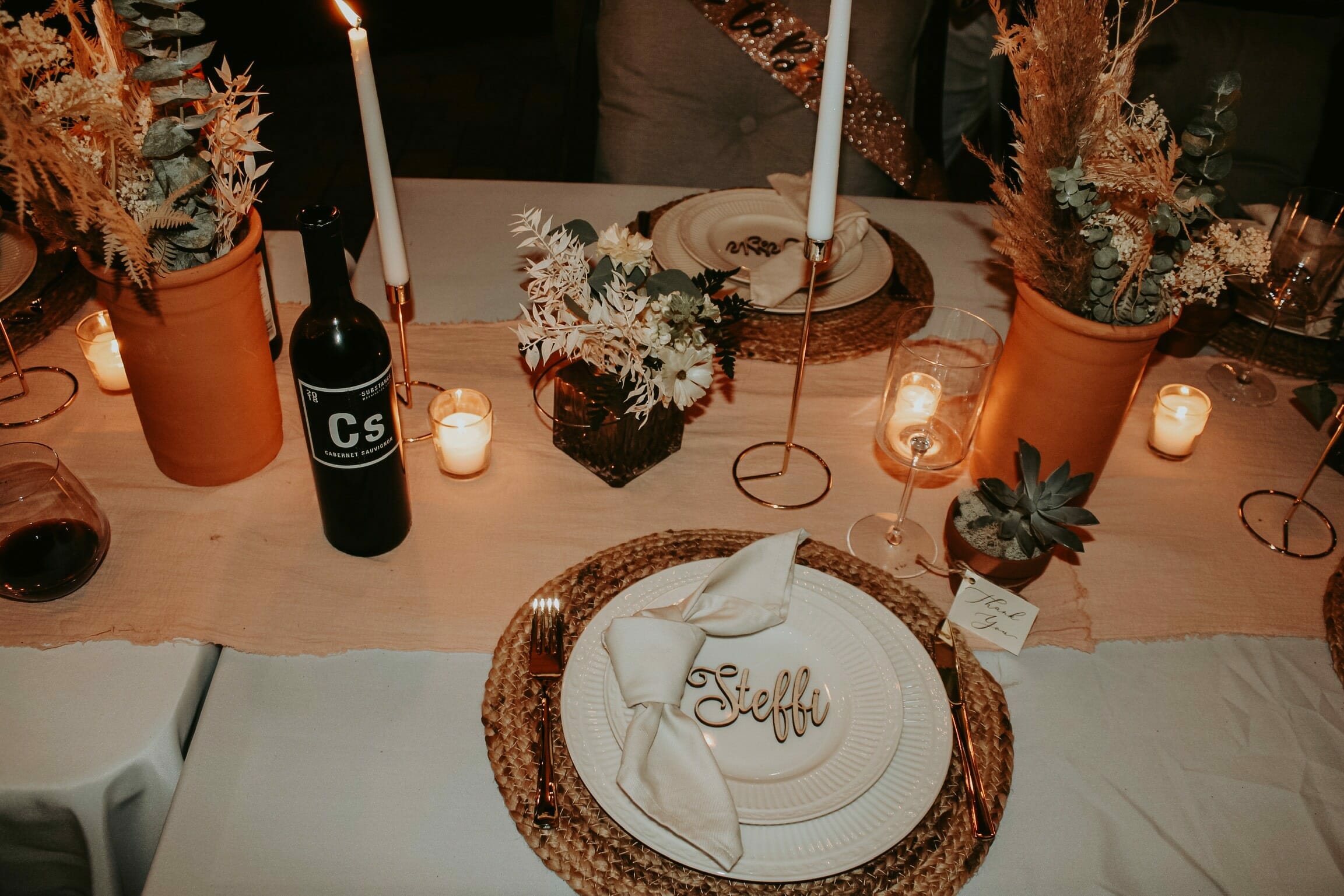 Saturday - Wedding Dress Shopping Experience
Prior to this weekend I knew I wanted to make appointments at a few different places. Being in the industry, I had done my research on different bridal boutiques, what designers and styles they carried, read reviews and what their try on experience was like. I ended up making two appointments for Saturday and one for Sunday morning - not knowing which boutique I would be saying "yes to the dress" in. 
But I'm here today to tell you about my experience at The Bridal Finery in Winter Park. It was my second stop on Saturday, and my last one because it's where I said YES!
I had heard of The Bridal Finery from being in the industry, but also because it's where my best friend had gotten her dress back in January. After that experience, I knew I had to go back. 
My stylist was Roberta and from the moment I set my appointment up with her she was on top of it. She informed me of how the process would work, responded quickly and asked for what styles I was looking for. 
Well, good thing she knew me better than I know myself because the dress I ended up getting was all because of her. Prior to my appointment at The Bridal Finery, I went to a different boutique and tried on a variety of styles. The style I had pinned on my PInterest boards was not flattering on me, and nothing was making it feel like "the one" feeling I was looking for. So, we decided to leave that shop and head to our appointment at The Bridal Finery.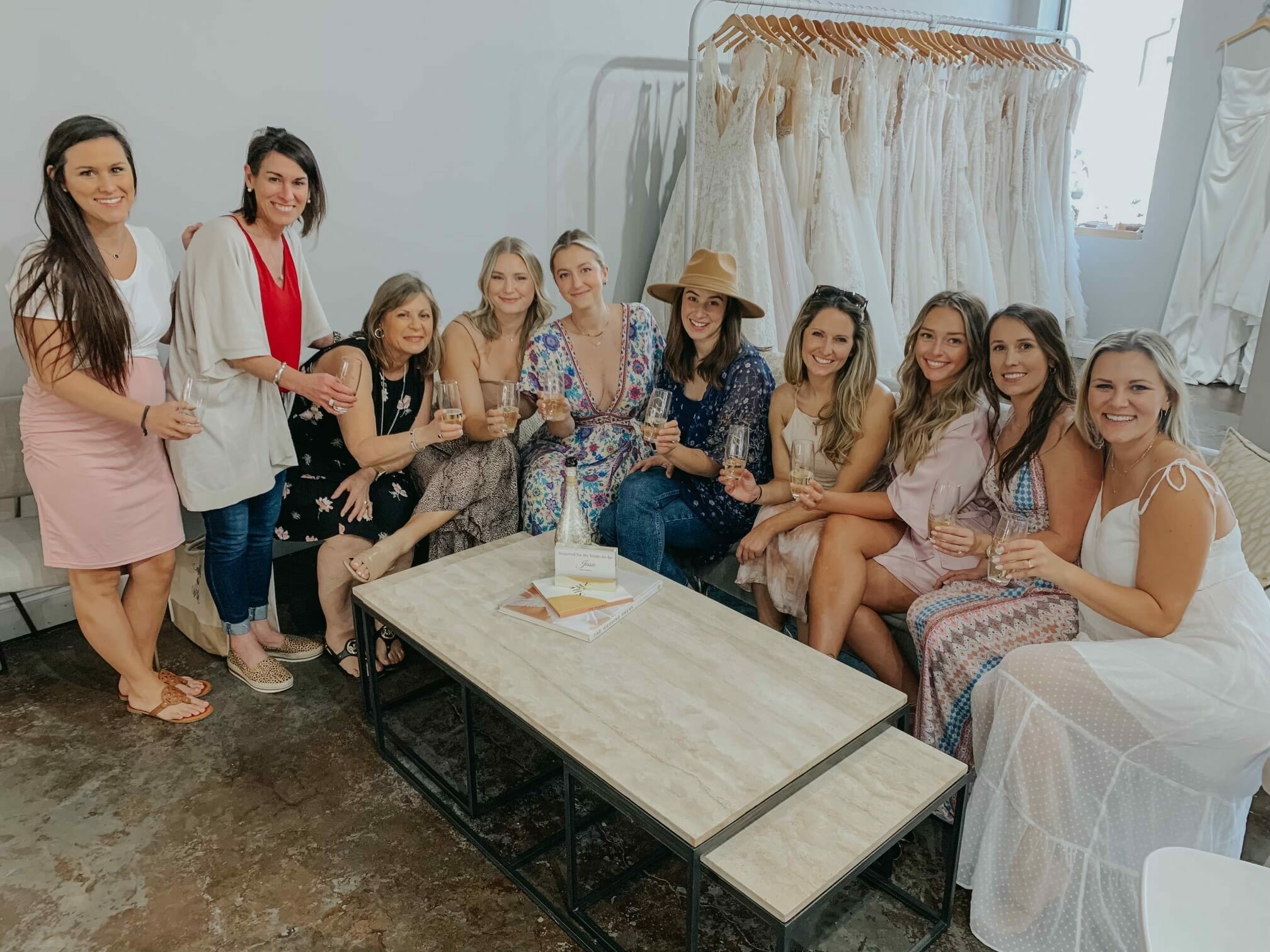 As soon as I walked in, I saw the most beautiful dresses hanging all around and a lounge area set up for my girls to sit and watch (you get the entire boutique to yourself during your try on experience). My stylist Roberta, sat down and talked to us for a good 30 minutes - she wanted to get to know me and my people a little bit more, learn more about my wedding vision and what styles I was going for. 
She then showed me four different dresses to start with trying on...and sure enough the very first one I tried on, was THE one. I knew it the moment I put it on. I felt so comfortable in it, loved myself and body in it and didn't want to take it off! We paired it with beautiful accessories and the most stunning veil. 
Roberta and her team truly have a gift, and I will forever be grateful for her. She makes you feel comfortable, confident and beautiful when trying all these dresses, something I was a little worried about prior to my appointments. And when you know it's the one, the big reveal to your girls sitting on the couch is SO MUCH FUN! We celebrated with champagne, lunch and margaritas and then went out to celebrate that evening.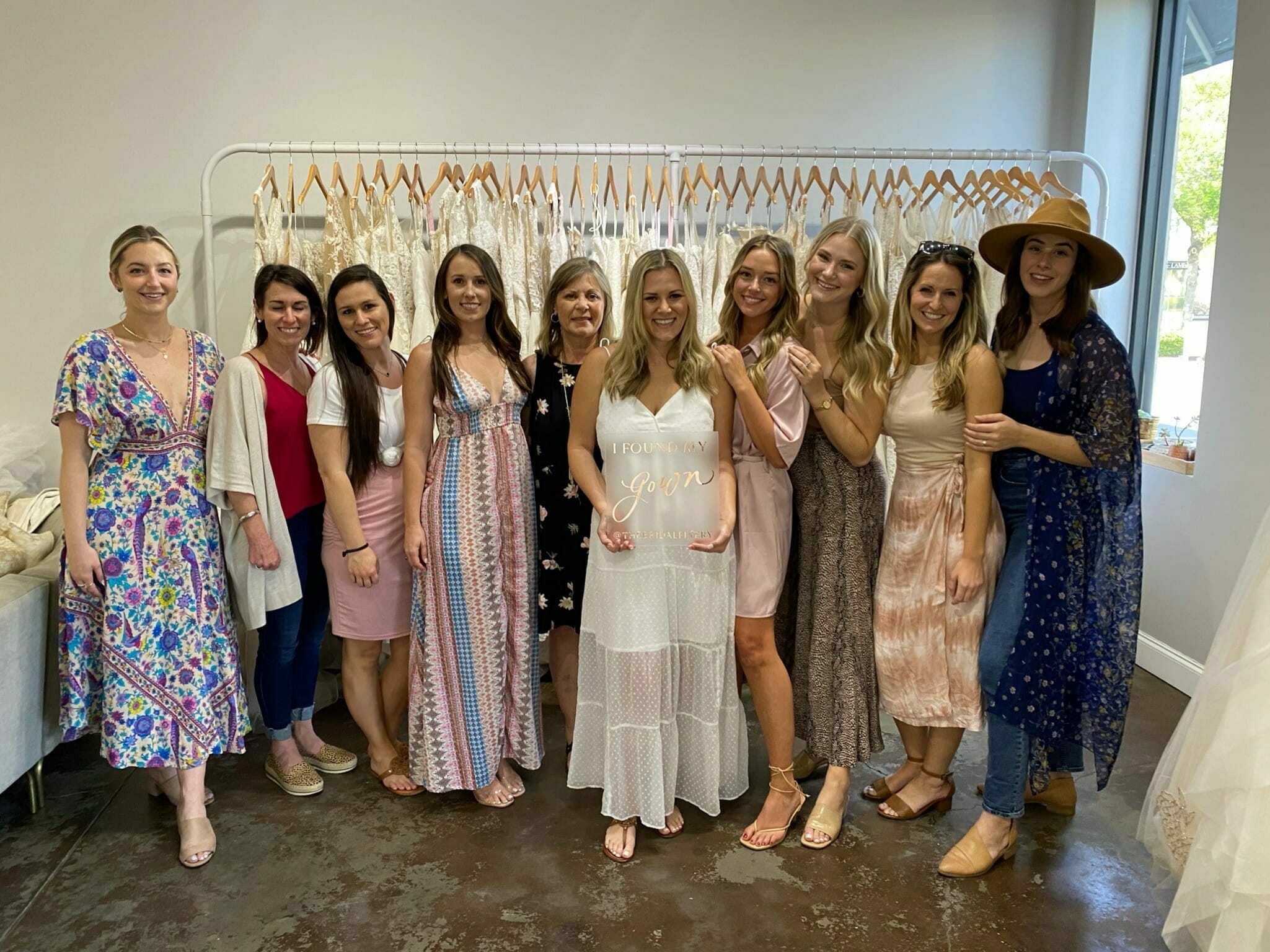 Tips for a Successful Wedding Dress Shopping Experience
If I had to give a few tips to any bride-to-bes when shopping for their wedding dress it would be these. These tips may not apply to everyone, but these things really helped me throughout the process and led me to my dream dress!
Start Shopping 9-12 Months Out
I'm a wedding planner, so I definitely knew this was a to-do I needed to get done in the beginning of my planning process. Envy also offers a "Client Planning Checklist" that reminded me this task needed to get done sooner rather than later! The reason it is recommended to shop so far out from your wedding date is because believe it or not, gowns typically take anywhere from 4-10 months to be made. Factor in shipping times (where is your dress coming from?) alterations and multiple fittings – in the end, your gown could take up to 12 months to be ready!
Do Your Research
Since I'm in the industry, I had a few studios in mind that I knew I wanted to make my appointments at. However, I highly recommend doing your research. Look at Google Reviews, look on Instagram for the inventory they are posting about and don't hesitate to ask your friends, wedding planner or other vendors for recommendations. 
Also, do your research on the type of dress you want. Many stylists will ask what style dress you are looking for. 
Make Your Appointments
Don't wait on making these appointments if you have a certain weekend in mind! I recommend trying to schedule all of your appointments within one weekend, however if you don't end up finding "the one" don't wait to schedule an appointment for another weekend. If you decide to bring your bridesmaids along, plan a bridal lunch in between (or after) appointments to thank your bridal squad!
Come Up With a Budget
It's important to have a budget in mind when shopping for your wedding dress. The moment stylists reached out to me, it was one of the first things they asked and I mentioned. The last thing you want is to try on a dress that you fall in love with but is way over what you're willing to spend.
Go In With An Open Mind
This is so important, and something I wish I would have been better at. For the longest time I thought I needed a certain style. I sent all of the stylists pictures of this style because I was completely in love with it. But what I realized was that I only liked those styles because they looked good on someone else's body, not my body. I ended up walking away and saying yes to a dress I never would have thought I would love. 
So, I encourage you to have an open mind! Try on all of the styles, take the stylists recommendations and enjoy every single second. If one dress doesn't look good on you or feel comfortable on, move to the next one! The experience should be fun and an open mind is so important. 
Invite Whoever You Want...Or No One At All
The way I set up my dress weekend, doesn't have to be the way you do it. Some people like a big crowd, others may want just a few people to attend. Whatever makes you feel comfortable and enjoy this experience should be the way it happens.
Dress Yourself Up
I'm not saying to get your hair and make up done professionally, but I definitely recommend doing your makeup and styling your hair for your appointment. It's a great way to add to your confidence when trying on dresses. 
This is an endeavor that requires a lot of research, planning and lots of FUN! My goal? For you to not only find your dream wedding dress, but to enjoy the time you spend shopping for it too.
I hope by sharing my experience and tips helps you throughout your process. I can't wait to show you all what I chose!